Kerveros QRPatrol - Quick Response cloud Patrol System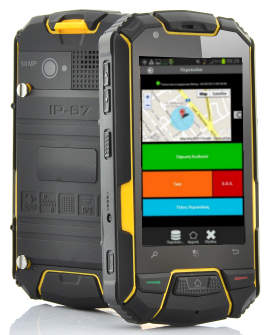 The smartest Guard Tour Patrol System. The guard always online! A cloud approach
What is QR-Patrol?
The evolution in Guard Tour Patrol Systems! A combination of a smartphone (could be a rugged phone), inexpensive (lower than 0.02€ per tag) printed waterproof qrcode tags or NFC (like RFID) tags (see the gallery here), and an online service.
You are always informed of the position and the situation and the action of the guards. At the same time the customer could be informed in real time if a guard passes a check point of his interest.
Put self-adhesive, NFC or QR Code labels very low cost labels on every check point. The guard should scan them using his smartphone (iPhone or Google Android) during his tour. Immediately the control room sees this action and the position, through a secure web connection. At the same time the customer is able to see this action too!
Of one can use any preferable NFC tag.
There is a TEST button to be informed about the condition of the guard and a SOS button for emergency situations.
Also the guard can send pictures, sound recordings and text messages to the control room in real time. The control room can send text notes and map position for navigation purposes to the guard.
There is a whole online scheduling and live alerting web application. The best of it's kind!
Actually in QRPatrol system, the guard is using a powerful computer (iPhone or Android smartphone), unlike other systems, which are based on dummy terminals. Imagine, the possible uses of QRPatrol system are countless! The smartest guard tour and patrol system!
Download QR-Patrol mobile apps
Download free of charge the iPhone/iPad application from here

or download free of charge the Google Android application from here

Please watch the video below
To do - Under development (there will be free update):
*API to connect to other security software, such a CMS for central monitoring stations, alarm receiving, alarm automation, etc.
*Support for more laguages
We are looking for partners/distributors worldwide, offering a significant profit margin. Please contact us.
Open minds:
We are always open to interesting ideas. We'll be happy to hear your needs
We can translate it in any language